Sunday, September 17, 2006
Jewish People Cry Out Against Israeli War Crimes - short video
Amnesty International accuses Israel of deliberate war crimes
http://www.informationclearinghouse.info/article14696.htm
Amnesty International's Severe Criticism Of Israel's Tactics
By Dr. César Chelala 08/25/06 "
Information Clearing House
"
-- -- New York - An Amnesty International report on Israeli Defence Forces's (IDF) behavior during the recent war in Lebanon severely criticizes it and calls for an independent commission of inquiry. Such a commission should not only investigate the IDF's but also Hizbullah's actions during the conflict, in which civilians have been the main losers.
According to Amnesty International, during the more than four weeks of war, Lebanon's infrastructure suffered destruction "on a catastrophic scale." During that period, the Israeli Air Force conducted more than 7,000 air attacks while the Navy carried out 2,500 bombardments. As a result of these attacks and those of Israeli ground forces, 1,183 persons were killed. One third of them were children. In addition, over 4,000 people were injured and almost one million people were displaced.
Civilians were harmed not only as a result of direct attacks but also as a consequence of the destruction of vital infrastructure. The Lebanese government estimates that 31 "vital points" (airports, ports, water and sewage treatment plants, electrical facilities) have been totally or partially destroyed. Attacks were also carried out against fuel stations and commercial enterprises.
Hospitals, particularly in the south of the country, have sustained shelling damage, while their continued operation was affected by fuel shortages, road destruction and the continuing blockade. The Lebanese Ministry of Public Health stated that, as of August 12, almost 60 percent of the country's hospitals had stopped functioning. Two government hospitals --in Bint Jbeil and in Meis al-Jebel—were completely destroyed by IDF's attacks. In the southern village of Tebnine, just before the cease fire on August 14, Israeli forces fired cluster bombs all around the government hospital where hundreds of civilians had sought refuge, including many children, and elderly and disabled people. These attacks happened although hospitals are by nature "civilian objects" and shouldn't be attacked unless they are used for military purposes.
Amnesty International's delegates also observed attacks on supermarkets and warehouses, apparently intended to hasten the departure of residents, a situation also denounced by the Catholic charity Caritas. To make matters worse, agricultural production has also been severely hit, since the produce cannot be transported by road, which are almost completely destroyed.
According to Fadl Shalak, head of Lebanon's Council for Development and Reconstruction, the damages provoked by the IDF amount to $3.5 billion: $2 billion for buildings and $1.5 billion for infrastructure such as bridges, roads and power plants. Overall, more than 120 bridges were destroyed, including the one connecting Mount Lebanon to the Bekaa Valley, far away from the south of Lebanon, the main theater of hostilities. According to evidence, the extensive destruction of roads, power systems, civilian homes and industry was a deliberate component of the IDF's strategy rather than just "collateral damage."
On July 13, Israel's Defence Force Chief of Staff Lt-Gen Dan Halutz stated, "Nothing is safe [in Lebanon]. It is as simple as that." Many of the actions described are war crimes, and those responsible are subject to criminal accountability anywhere in the world through the doctrine of universal jurisdiction. Criticism of the IDF's actions is not limited to Amnesty International.
Gilad Atzmon, a former Israeli soldier who is now a writer and musician stated, "The IDF is a spoiled, confused and tired army that is specializing solely in terrorizing civilian populations while being engaged in constant tactical withdrawal. This Israeli Army is not trained to win wars anymore. Instead, its tank battalions are mainly engaged in daily shelling of schools and hospitals…The IDF is basically a heavy army specializing in merciless regional bullying."
Given the scale of human rights abuses, Amnesty International has called for the establishment of a comprehensive, independent and impartial inquiry into violations of international humanitarian law by both Hizbullah and Israel in the conflict. It has asked that the UN Security Council and the UN Human Rights Council request the UN Secretary General to establish a panel of independent experts to carry out this investigation. The creation of that commission could bring some sanity to an otherwise hopeless situation.
César Chelala, MD, PhD, is a winner of an Overseas Press Club of America award for an article on human rights.
Click on "comments" below to read or post comments -
Click Here For Comment Policy

postCount('article14696.htm');
Comment (0)
---
The Standard Email News
Israel's Foes as Beasts and Insects: They are not Human Beings, they are not People; they are Arabs!
DEHUMANIZING OTHER HUMAN BEINGS TO JUSTIFY ATROCITIES:
Do "beasts" and "insects" seek comfort in their Holy Book and prayers to God?
Is this a "beast" wailing over an "insect" in his arms?
Is this a "beast" or an "insect"?

Does an "insect" show such compassion for a maimed child?
Is This a dead "cockroach"?
Or this?
Are these photos below of burned "scorpions"?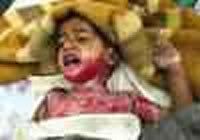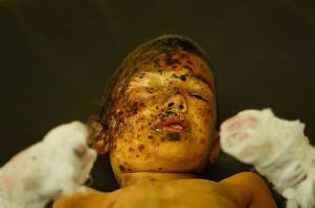 Do "insects" grieve over a killed brother?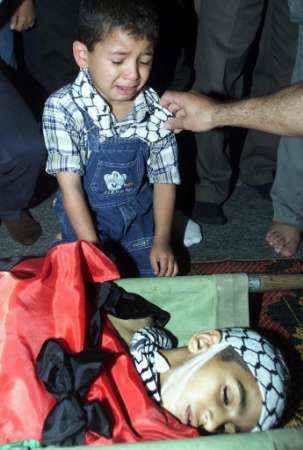 Do "scorpions and "cockroaches" weep in despair and grief and terror? Or comfort their loved ones?
Or bury their dead?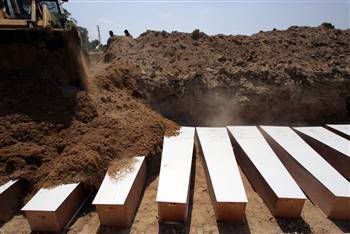 Each of the Arabs pictured above appear remarkably like human beings and people to me, not beasts nor insects. Shame, shame on the people who so denigrate these human brothers.

Dehumanizing the enemy to excuse atrocities
http://www.informationclearinghouse.info/article14687.htm

Israel's Foes as Beasts and Insects
"But They're Not Human Beings, They are Not People, They are Arabs!"
By PUNYAPRIYA DASGUPTA
08/23/06 "
Counterpunch
" -- -- Israel's ambassador in New Delhi, David Danieli, sees Hezbollah as something akin to a
scorpion
(Times of India, 28 July). His is not much of a new invention. Other Israelis in responsible positions have made similar statements before. A few days earlier, Dan Gillerman, Israeli representative at UN, regretted Kofi Annan's failure to mention that the Hezbollah was a bunch of "ruthless, indiscriminate
animals
". During its First Lebanon War in 1982 Israel's chief of staff Rafael Eitan was gleeful that he had shoved the Palestinian " drugged
cockroaches
" into a bottle.
To Menahem Begin, chief author of the Deir Yassin massacre, who went on to become Israel's prime minister and get a Nobel peace prize, the Palestinians were "two-legged
beasts
". Immediately after the 1967 war Robin Maxwell-Hyslop, a British Conservative, recounted in the House of Commons a conversation he had with David Hacohen, one-time Israeli ambassador to Burma. As related by Maxwell-Hyslop, Hacohen "spoke with great intemperance and at great length about the Arabs. When he drew breath I was constrained to say: "Dr Hacohen, I am profoundly shocked that you should speak of other human beings in terms similar to those in which Julius Streicher [notorious Nazi propagandist] spoke of the Jews. Have you learned nothing?"
I shall remember his reply to my dying day. He smote the table with both hands and said: "But they are
not human beings, they are not people, they are Arabs
"." One of the many things Israeli spokesmen seem incapable of realizing is that abuse is no substitute for reason. Israel has amassed much military prowess but remains very poor in logic.
Facts cry out against Israel. The root cause of the present war in Lebanon is, according to the Israelis and Americans, in the capture of one Israeli soldier by Hamas and two by Hezbollah. Not true. It is in the original sin of the partition of Palestine by UN against all moral, historical, demographic, legal reasons. The General Assembly's non-binding Resolution 181 envisaged an astonishingly intricate carving of Palestine into seven pieces to make 608,000 (half of them illegal immigrants) of a total population of 1,935,000 the majority in the biggest possible area.
This was the warrant the Israelis needed to begin their relentless drive to restoration of their "historical frontiers" i.e., from the Mediterranean to the Jordan river through the instrumentality of calculated massacres and wars and incredible mendacity.
Had Israel stopped even at the pre-June 1967 lines there would have been no 1973 war, no Lebanon wars, no Hezbollah, no intifadas. Hezbollah was born of the need for an effective resistance to the Israeli juggernaut after the Arab armies had repeatedly failed. Hezbollah ran the Israelis off from Lebanon, excepting Shaaba Farms, a tiny patch Israel treats as a part of the Syrian Golan Heights it conquered and annexed. To the people in the Arab world Hezbollah is their David confronting the Israeli Goliath. Hezbollah's standing firm and inflicting substantial losses on the world's fourth mightiest force this time has heightened Arab expectations.
Mr Danieli's many accusations against Hezbollah include "inventing" the Israeli enemy. The wrong end of the stick. Political invention is an Israeli art. Remember Golda Meir's statement that there was no such thing as a Palestinian people ­ "they did not exist"? Hezbollah was reckoning with unceasing Israeli violations of Lebanese sovereignty. Israel's peace activists say they had watched with alarm the deliberateness behind the Israel's latest war and soldiers admit they had rehearsed the offensives .
Mr Danieli stigmatizes Hezbollah as terrorists. How does he explain the proud confession of Yitzhak Shamir, one-time
terrorist and twice prime minister of Israel
: "Neither Jewish ethics nor Jewish tradition can disqualify terrorism as a means of combat"? Mr Danieli's claim about his government's "calculated restraint" sounds terribly ironic with the current proportion of eight Lebanese dying for each Israeli.
Punyapriya Dasgupta is a journalist. Email:
siliserh@yahoo.co.in
---
Labels: Israelis call Arabs beasts and insects
Pictures from Lebanon
Why Do They Hate Us? - Lebanon War Photos
Friday, September 08, 2006
Palestinian Children Pay Price for Israel's Continued War Crimes
Palestinian children pay price of Israel's Summer Rain offensive
Rights group says 197 civilians have been killed in military operation, including 48 minors
Rory McCarthy in Gaza CityThursday September 7, 2006
The Guardian
Palestinian Hosam Sersawi, 6, lies in a critical condition in intensive care at the Shifa hospital in Gaza City after being wounded Israeli sniper fire. Photograph: Khalil Hamra/AP
On a humid afternoon, an hour or two after lunch, Nadi al-Attar, 12, set off on a donkey-drawn cart with his grandmother Khariya and two of his young cousins to pick figs from a small orchard near their home in northern Gaza.
Ahmed, 17, one of the cousins, remembers the moment when the shell struck, but pauses as he tells his story to nervously rub the muscles at the top of his thighs. The shell that hit their cart that afternoon sliced off his left leg just above the knee and his right leg halfway up his calf. He still has an aching pain in his bandaged stumps.
They had stopped the cart and two of the boys jumped off. "They went to collect something, some metal bars, and then they came back to the cart," he said. The boys hoped to sell the strips of metal for scrap. The Palestinian Centre for Human Rights (PCHR) later determined that the metal came from a launcher for a Qassam, one of the crude rockets launched by Palestinian militants from Gaza into Israel. Qassams had been fired from the area that morning, though the militants had since left.
"Then the shell struck. I saw my mother [Khariya] dead and Nadi killed. I saw them dead on the ground," Ahmed said. "I looked down and then I saw my legs were cut away."
Human rights field workers believe an artillery shell, fired from an Israeli military position not far away at the border with the Gaza Strip, hit the cart. Several were fired that day, July 24 - one day in a long and damaging Israeli military operation.
"I think it happened because of the metal we were collecting," Ahmed said. "But we were just going to the farm." He was taken to hospital with another cousin, Shadi, who was wounded in the stomach by shrapnel. Nadi and Khariya, 58, were killed instantly.
"We had lunch together," said Nadi's father, Habib, 36. "Then he went with his grandmother and never came back."
The deaths are not an isolated case. For the past two months, while the world's attention in the Middle East has been focused on the conflict in Lebanon, the Israeli military has led a wave of intense operations along the length of the Gaza Strip. It began after the capture of an Israeli soldier, Corporal Gilad Shalit, by Palestinian militants on June 25. The Israeli military said its operations were intended to free Cpl Shalit and to halt Qassam rocket fire. Early on the Israelis bombed Gaza's only power plant and they have kept Gaza's crossing points to Israel and Egypt closed for most of the time.
Since the start of the operation, codenamed Summer Rain, at least 240 Palestinians have been killed. One in five were children. According to the PCHR, which has investigated each case, 197 of the dead were civilians and the vast majority were killed in Gaza. Among them were 12 women and 48 children.
Yesterday an Israeli military spokesman said his forces did not target civilians. "Our actions are targeted only at terrorist organisations, terror activities and infrastructure," he said. "It can happen that innocent people are hit. But the responsibility does not lie with the Israeli army, but rather with the terror groups who are working within civilian populations without any regard to the danger they are causing."
More than two months into the Gaza operation Israel has still not secured the release of Cpl Shalit or stopped Qassam rocket fire.
"We believe that the whole offensive against the Gaza Strip is characterised by being an act of revenge and retaliation in which civilians are paying the price," said Hamdi Shaqqura, a founder member of the PCHR in Gaza City. "They have demonstrated total disregard for the rights of innocent Palestinian civilians. There has been an excessive use of force, a disproportionate use of force in civilian areas, and that explains the high toll of death."
Mr Shaqqura also condemned the Palestinian militants for launching the Qassams and for firing them from civilian areas. "This is illegal and we have called on them to stop," he said.
Many relatives of those killed by the Israelis in Gaza have been equally critical of the rocket attacks. "We get nothing out of it," said Muhammad al-Attar, 23, another of Nadi's cousins. "After they launch rockets we get killed and they destroy our farms."
A few hours after the donkey cart was hit a shell was fired into Beit Hanoun, another district of northern Gaza. It killed Khitam Tayeh, 11, who was on her way to the shops after school with her sister Nuha, 12. Nuha was hit by a piece of shrapnel in her left thigh, but survived. Khitam had a severe head injury and died in hospital.
"I carried her in from the ambulance and took her to the operating room in my arms," said her father, Muhammad 48. "Then she died. They couldn't do anything." He showed several framed photographs of his daughter, with long dark hair and wide brown eyes. Two bright stars had been superimposed in the background.
Mr Tayeh has collected a box of shrapnel from the scene, a couple of dozen sharp, rigid shards of metal, each three or four inches long, and talks of bringing a legal case against the Israeli military. Like many, a year ago he had hoped that life in Gaza would improve when Israeli settlers were withdrawn, in what seemed a ground-breaking move.
"People expected it would get better, but it's been the opposite," he said. "Don't tell me they withdrew. It's like they didn't leave. They are everywhere."
On the eastern side of Gaza, in Shujaiya, Hussam al-Sirsawi, 12, was with his friends standing on the street watching Israeli troops fighting against militants in the distance on August 27. He was badly injured by a piece of shrapnel and died three days later.
"You know how children are when they hear something happen. They want to go and see," said his uncle Nasser al-Sirsawi, 37. "I can't say why the Israelis killed him. These army people are full of hatred. Maybe these kids went to watch some resistance people and they were in the wrong place. To kill a child like this is not natural." On the wall opposite his cloth shop there is graffiti dedicated to his nephew. "Hussam," it says, "we swear to God you won." "Of course," said his uncle, "he's a martyr."
Two days later there was another incident in Shujaiya, when again a group of children were watching the fighting. Either a tank shell or a large chunk of shrapnel flew at them and hit Muhammad al-Ziq, 14, on the head. He died instantly. "I think sometimes they just want the Palestinians to pay," said his uncle, Ziad al-Ziq, 36. "He was with children wanting to see what was happening. There was no excuse for what happened."
All of the dead and most of the injured pass through the Shifa hospital in Gaza City. Staff photograph the bodies of the dead - they call the victims "martyrs" - and document their injuries. Juma'a al-Saqqa called up a picture on his computer screen of Muhammad al-Ziq, an appalling image of the boy lying on his side on a metal morgue table, the side of his head sliced away. In the past two months the hospital's doctors have dealt with 1,280 injured from the military operations, a third of whom were children. The doctors performed 60 amputations.
Dr Saqqa flicks through the photographic record, images of bodies charred beyond recognition, flesh no longer human in form. Many of the figures were young children, at least one in a shredded blue school uniform. "We have passed through the worst situation we have ever come across in our years of work," he said. "But this is our situation. What can we do? We raised our voices to the world, but nobody moves."Special report
Israel and the Middle East
World news guide
Israel and the Palestinian territories
Middle East
Glossary
Commonly used terms in the Middle East conflict
Interactive guide
How the Israelis and Palestinians came to war
Israel enters Gaza
Government sites
Israeli Knesset (parliament)
Israeli ministry of foreign affairs
Israeli government site
Office of the Israeli prime minister
Palestinian Ministry of Information
Media
Ha'aretz (Israel)
Israel Insider (Israel)
Jerusalem Post (Israel)
Maariv (Israel)
Arabic Media Internet Network (Palestinian)
Palestine Chronicle (Palestinian)
Electronic Intifada (Palestinian)
Bitter Lemons (Israeli-Palestinian)
In Depth Iraq in Crisis
Source:
http://www.ft.com/indepth/iraq
In depth
Breadcrumb trail navigation:
FT Home
>
In depth
> Iraq in crisis
Iraq in crisis
Resources
With little sign of an end to the Iraqi insurgency, fears are rising that the government of Nuri al-Maliki will not be able to contain sectarian violence or Shia militia activity and that the country will slip further into civil war. Our dedicated pages bring you the latest news and analysis.
More in this section
Profile
Abu Musab al-Zarqawi
Iraq parties
Guide to political groupings
Interactive map
Iraq's regional divisions
Iraq timeline
Key events in Iraq's recent history
Iraq elections
What happens next?
Saddam on trial
Pictures from the courtroom
Your comments
Time to pull out troops?
Iraq's constitution
Full text (pdf document)
In depth
Terror
News and analysis
London terror
News and background
Oil
News and analysis
Iraq's parties reach deal on oil-sharing
Iraq's main political factions have hammered out an agreement on the sharing of oil and gas revenues but other contentious issues need to be resolved before a draft hydrocarbon law is completed, a senior Iraqi official said.
writeDate( 1156877019000, 'Grey', '19:43', 9999999999999);
- 19:43
Stricter security is curbing violence, says Iraqi PM
Blasts kilks at least 12 people in capital
writeDate( 1156707507000, 'Grey', '20:38', 9999999999999);
- 20:38
Bush loses House ally over policy on Iraq withdrawal
Iraq's petrol stations fuel turf wars
Saddam enters no plea in 'genocide' trial
Colombian ex-soldiers in Iraq pay dispute
Alarm in Congress over race to allocate cash
attachOnload("setNidHeights()");
Related content and features
Iraq's insurgents
Al-Qaem offers glimpse of post-war order in Sunni heartland
When US officials speak about splitting the insurgency between nationalists and extremists and creating an 'oil spot' of stability where Iraqi state control can be rebuilt and then spread to neighbouring regions, al-Qaem is likely what they have in mind.
Comment
Misplaying the Islamic power game
Were those who toppled Saddam Hussein conscious of how this would enhance the influence of Shia Iran, bringing the revolutionary strain in this faith to the fore? Apparently not, writes David Gardner.
Comment
A do-nothing policy in Iraq is not safe option for Bush
The president may hand responsibility for the toughest decisions to his successor. But there is no guarantee even the bloody status quo can last two years, writes
Gideon Rachman
.
There can be no real exit from involvement in Iraq
If Iraq is to work at any level, the coalition must make a long-term commitment, writes Anthony Cordesman of the Center for Strategic and International Studies in Washington DC.
More Iraq stories
US forces tread a fine line in divided Iraq
Iraq rebuilding 'hit by bad planning'
US in quiet U-turn on Iraq troop numbers
US and Iraqi domestic politics at odds
Baghdad's turf wars show little sign of ending
Al-Maliki echoes White House in address
Fuel smuggling curbed by prices, says Iraq
Iraqi PM unveils Baghdad security plan
Saddam Hussein trial resumes without him
Halliburton loses army contract in Iraq
Iraq 'sliding towards civil war'
Five US soldiers face rape and murder charges
Sectarian violence escalates in Baghdad
Thursday, September 07, 2006
NOTICE TO READERS: THIS IS WAR !!
NOTICE TO READERS:
THIS IS WAR !!
THE TITLE OF THIS BLOG IS "THIS IS WAR", AND ITS PURPOSE IS TO BRING TO THE ATTENTION OF THE PUBLIC THE CRUEL VICIOUSNESS AND DESTRUCTION OF WAR.THIS BLOG DEALS WITH WAR PRIMARILY FROM THE ARAB EXPERIENCE, ALTHOUGH OTHER NATIONS WILL BE PRESENTED ALSO. IT IS NOT INTENDED TO INDICATE A BIAS AGAINST OR FOR ANY NATION.
This blogger is pro-humanity and anti-war. This blog presents the inhumanity of war.There will be fewer posts re: the Israeli involvement and their position. The Israelis, like the U.S., allows few photos of their wounded or dead to be published.
The media, partial to the shock value of atrocities, concentrates more on the Arab death and destruction, so fewer sites are found regarding the Israelis in Lebanon or the US in Iraq. A blog presenting the American and Coalition experience may be found at
http://imperial-sacrifices.blogspot.com
This blog is not a pleasant one. It isn't meant to be. Some sites contain graphic, horrific photos.
THIS IS WAR !!
WAR EVERY DAY
Absolutely predictable"
E-mail this
Print this
Jeff Severns Guntzel, Electronic Iraq
31 August 2006
Americans are turning against the war in Iraq. Politicians, especially those currently running for office, are talking a slightly tougher anti-war, or at least anti-this-war talk. "Many of these folks are sincere and they're patriotic but they could be - they could not be more wrong,"
President Bush said today
. "If America were to pull out before Iraq could defend itself, the consequences would be absolutely predictable, and absolutely disastrous."
There is disaster now of course. The
news today
is that 200 people have been killed in violence in Iraq between Sunday and Wednesday. The "rash of violence" as the New York Times called it today (I would have chosen word other than "rash" - there is ceaseless bloodletting in Iraq, not itching) followed closely the
boasting
of American and Iraqi officials that their "
Operation Forward Together
," a massive security operation launched in Baghdad in June, had drastically reduced violence in the capital.
It had...it seems - until that success turned to various levels of bluster.The only "absolutely" safe prediction, at this point, seems to be this: Iraqis, when a prominent member of your government or ours appears on television to speak of missions accomplished and movements "forward" and "together," lock your doors and pull your shades.
Sadly, however, such measures - the locking of doors and the pulling of shades - do not guarantee safety in today's Iraq. Behind those locked doors and darkened windows there is often no electricity and when there is water it is not always free of the things that send you ill to the hospital.And at home or at the hospital, you cannot really feel safe from the militias - in uniform and out of uniform - who can find you at either place.
Consider these two stories published this week:The first, "
Hospitals are no refuge as abductions of Sunnis rise
," the Washington Post's Amit R. Paley, writes:
In a city with few real refuges from sectarian violence - not government offices, not military bases, not even mosques - one place always emerged as a haven: a hospital.So Mounthir Abbas Saud, whose right arm and jaw were ripped off when a car bomb exploded six months ago, must have thought the worst was over when he arrived at Ibn al-Nafis Hospital, a major medical center here.Instead, it had just begun. A few days into his recovery at the facility, armed Shi'ite Muslim militiamen dragged the 43-year-old Sunni mason down the hallway floor, snapping intravenous needles and a breathing tube out of his body, and later riddled his body with bullets, family members said.
In Baghdad these days, not even the hospitals are safe. In growing numbers, sick and wounded Sunnis have been abducted from public hospitals operated by Iraq's Shi'ite-run Health Ministry and later killed, according to patients, families of victims, doctors, and government officials.As a result, more and more Iraqis are avoiding hospitals, making it even harder to preserve life in a city where death is seemingly everywhere. Gunshot victims are now being treated by nurses in makeshift emergency rooms set up in homes. Women giving birth are smuggled out of Baghdad and into clinics in safer provinces.
In most cases, family members and hospital workers said, the motive for the abductions appeared to be nothing more than religious affiliation. Because public hospitals here are controlled by Shi'ites, the killings have raised questions about whether hospital staff have allowed Shi'ite death squads into their facilities to slaughter Sunni Arabs."We would prefer now to die instead of going to the hospitals," said Abu Nasr, 25, a Sunni cousin of Saud and former security guard from al-Madaan, a Baghdad suburb. "I will never go back to one. Never. The hospitals have become killing fields."
Three Health Ministry officials, who spoke on condition of anonymity for fear of being killed for discussing such topics publicly, confirmed that Shi'ite militias have targeted Sunnis inside hospitals. Adel Muhsin Abdullah, the ministry's inspector general, said his investigations into complaints of hospital abductions have yielded no conclusive evidence. "But I don't deny that it may have happened," he said.
The second story, which
looks inside
"Operation Forward Together," throws out a rather stunning statistic and then moves right along:"So far, the U.S. military says, American and Iraqi forces have searched more than 33,000 buildings, including 25 mosques. But the yield has been relatively small." The "yield" has been, again, according to the U.S. military, 70 suspects and 700 weapons. 33,000 buildings. Stop there. Surely many of those buildings were homes.
That is as many as 30,000 doors knocked down and as many as 30,000 families terrified and furious - likely a vengeful kind of fury. The Americans aren't known for their polite knocks. Visits from the Iraqi army can be as bad or worse. When we look at the dips and the surges in violence and at the success and failure of operations, where on the scale do we place the living-room-fury in Iraq? The fury of families engaged in nothing more than the daily struggle of maneuvering life under military occupation and in the midst of incredible violence - interrupted by doors kicked in and loved ones screamed at and rounded up at gunpoint and in their nightclothes.
What does that fury become? Does it waste civilians in a marketplace or American soldiers in a Humvee or does it just waste the furious? The answer is "absolutely predictable": it does all of these things.
Jeff Severns Guntzel, a journalist based in New York City, is co-founder and editor of Electronic Iraq. From 1998-2003, Guntzel made frequent visits to Iraq as co-coordinator of Voices in the Wilderness, a campaign to end the economic sanctions against Iraq. Guntzel returned to Iraq as a journalist immediately after the invasion. He was last in the Middle East in January 2006 to report on Iraqis fleeing the war and the demise of Ariel Sharon's political career. Recent articles on Electronic Iraq
War Every Day (eIraq Blog):
"It reminds me of a place that no longer exists"
( 6 September 2006)
Wednesday, September 06, 2006
The Persistence of Fascism: Open Your Eyes, Americans!
Or: The "New" Fascism, or: The US/Israeli Fascism
The US and Israeli crimes on their fascist path to world domination.
http://www.informationclearinghouse.info/article14578.htm
Text of article:
The Persistence Of Fascism
By Ghali Hassan
08/16/06 "
Information Clearing House
" -- -- Most people associate German Fascism with crimes against Jews and powerful German army. What they forget are the death of millions of non-Jews, the repression of minorities, and the premeditated wars of aggression and occupation of sovereign nations. All of it seems reminiscent today.
Common in today's parlance is that Fascism ended with the end of World War II (WW II). The reality is that Fascism did not end, but it was replaced by another variant of Fascism; one that is much more powerful and violent. Fascism violence and racial philosophy remain unaffected and were put into practice elsewhere against different nations.
Today, the U.S. and its allies control an array of world organisations, including the UN, and army of NGOs, the World Bank and International Monetary Fund (IMF). These organisations are used as political tools to intimidate smaller and defenceless nations, and to legitimise war of aggression and in the process advance Western interests.
The recent shameful and racist UN Resolution – drafted by the U.S., Israel and France – to justify Israel's aggression and war crimes against Lebanon is just a case in point. In fact history shows that the UN either sided with the aggressor or outright ignored the aggressor's violations of international law and UN own resolutions, including Resolution 242 calling on Israel to withdraw from occupied Arab land.
In addition, although German Fascism was known for its war propaganda and war rhetoric, it was nothing when it is compared with the today's manipulative propaganda machines of Fox News, CNN, the BBC and other Western corporate media. Today's Western propaganda is a formidable force minus the weapons. It spreads disinformation and distorts facts in order to manipulate public opinion and promote war and hatred.
If comparison is made today between the war rhetoric of the Nazis and those leaders who are perpetuating the current war of aggression, the commonalities are staggering. Today Western leaders speak in ordinary language – often deliberately mumbling – in order to manipulate and deceive the public. They pretend to strive for "peace" and "human rights", and the spread of "democracy" and "liberty"– a collection of euphemisms for imposing Western ideology and domination. However, what they pretend to do have no resemblance to their ideology and real goal.
In order to mask their ideology and demonise their victims, leaders and advocates of today's Fascism argued with audacity that the enemies are "Jihadists", "insurgents" and "Islamic fascists". Extremist such as Bin-Laden and al-Zarqawi ('al-Qaeda') – wearing traditional dress and beards –, were created and financed by the U.S. and its agents and used as label to distort the images of Islam and Muslims. The root causes of violence today are not "Islamo-Fascism", but Israel-U.S. Fascism that intended on world-domination.
Pretexts such as the non-existence of "threat" of acquiring Weapons of Mass Destruction (WMD), and "terrorism" are instantly created to justify violence and distort the images of people resisting violence. We know that Israel and the U.S. Pose serious threat to world peace. Indeed, the governments of the U.S. and Israel hold a virtual monopoly on violence and terrorism to enforce their ideology. As Philip Cannistraro, a professor of History at Florida State University rightly wrote; "Violence as a creative force is an important aspect of Fascism philosophy" and political ideology.
The so-called "War on Terror" is just a smokescreen to instil fear and justify violence and repression. It is fuelling anti-Muslims hatred and spreading Islamophobia throughout the World, particularly in the West. As it was during Fascism, fear is used to scare the public and justify new repressive "anti-terror" laws, specifically targeting Muslims. As a result, harassment of Muslims has increased dramatically and racism has reached an appalling scale. In addition, the "War on Terror" and its ongoing seasonal "terror alerts" are used to
obfuscate and distract public attention
from the atrocities committed against innocent civilians in Iraq, Lebanon, Palestine and Afghanistan.
Before the rise of Fascism, Germany and Italy were liberal democracies preaching "tolerance" and "free speech". However, once the promotion of false patriotism, negative nationalism and blind submission to authority were promoted, things started to change and rapid descent into Fascism took place. Hatred for Arabs and Muslims is quickly replacing Hitler's hatred for communists and Jews.
The war on Muslim nations and the ongoing threat directed against Syria and Iran is part of an Israeli-U.S. war. Israel, supported by U.S. Zionist ideologues (the "Neo-cons"), has embarked on a permanent war of domination in the Middle East. Although the U.S. shares Israel's Zionist ideology and provides Israel with weapons, money and political support, Israel must be held responsible for violating international law and perpetuating war crimes.
It is counterproductive branding any criticism of Israel's terror as "anti-Semitism" and trying to shield Israel and deflect the main responsibility of Israel's war crimes on the U.S. If Israel is just a U.S. proxy force, as most U.S. intellectuals and pundits allege, why are Turkey and Egypt not playing this lucrative role? Israel can choose to renounce violence and pursue its own peaceful coexistence.
It all started in 1947-1948, when some 400 Palestinian villages were destroyed, thousands of Palestinians were murdered and more than 750,000 Palestinians were forced to flee their homes to neighbouring countries. This well-orchestrated ethnic cleansing often referred to by Jewish Zionists and their Western supporters as the "war for independence". In reality, it was not a war, but one defenceless nation was wiped off the map, and a Zionist entity of European Jews was established on its foundation. "Israel would not exist today had it not been for its systematic massacres of the Palestinian population in 1948", writes Azmi Bishara, the Palestinian author and member of the Israeli Knesset.
In the first-half of 1948, terrorist organizations like the "Haganah committed 24 massacres, in some cases four or five people were executed, in others the numbers were 70, 80, and 100 … There are cases such as the village of Dawayima [in the Hebron region], in which a column entered the village with all guns blazing and killed anything that moved", said Benny Morris, Israeli revisionist historian. "The worst cases were Saliha (70-80 killed), Deir Yassin (100-110), Lod (250), Dawayima (hundreds) and perhaps Abu Shusha (70). There is no unequivocal proof of a large-scale massacre at Tantura, but war crimes were perpetrated there.
At Jaffa there was a massacre about which nothing had been known until now. The same [happened] at Arab al Muwassi, in the north. About half of the acts of massacre were part of Operation Hiram [in the north, in October 1948]: at Safsaf, Saliha, Jish, Eilaboun, Arab al Muwasi, Deir al Asad, Majdal Krum, Sasa. In Operation Hiram there was a[n] unusually high concentration of executions of people against a wall or next to a well in an orderly fashion", added Benny Morris (
Ha'aretz,
January 09, 2004). The Palestinians were considered "Barbarians" and they were targeted for extermination.
In 1948, Israel Prime Minister David Ben-Gurion said: "We must use terror, assassination, intimidation, land confiscation, and the cutting of all social services to rid the Galilee of its Arab population". Nothing has changed; Ben-Gurion's terror and ethnic cleansing have been used all over Palestine.
In 1967, Israel expelled more than 500,000 Palestinians. The same racist ideology is currently used to de-Arabise entire Palestine, masquerading as the "demographic threat", and accompanied by ongoing massacres of innocent Palestinian civilians not because Palestinians are powerful and threatening the lives of Jews, but because what Jews called the "demographic threat". In other words, to maintain Israel's Jewish character, Palestinians must be reduced to a small number by extermination and explosion. Since 1948, Israel has been implementing Fascism ideology in Palestine, with great accuracy and with tacit support of major Western powers.
Now, six decades after the end of WW II, we can see the results. Israel continues to expand, annexing Palestinian agricultural land and water sources. What remains of Palestine today is under Fascist occupation. The Palestinian people were ethnically cleansed and those who remained under Israel's military occupation are confined into large concentration camps. Their movement is controlled by military checkpoints, identity cards and the Apartheid wall. They are subjected to a Nazi-like racism, their houses are continuously demolished and their land is confiscated and they are enduring a slow genocide.
Gaza, the largest concentration camp in history, is under permanent siege and constantly bombed by Israeli forces. For the last six months, Gaza's 1.5 million Palestinians are forced to endure starvation and chronic diseases as a result of Israel's blockade only because the people chose to elect their own representatives.
Comparing Israelis living in secure anti-bomb shelters in Haifa after the Lebanese Resistance Movement (Hizbullah) fired few rockets on the town, the Israeli journalist Amira Hass writes; "Take what the northern residents have been going through for a month, multiply it by 1,000, [and] add an economic blockade, power and water cuts, and no wages. This is how the Palestinians in the Gaza Strip have been 'living' for the past six years".
In June 2006, Israeli occupation forces (IOF) invaded and occupied Gaza after they bombed and destroyed Gaza's civilian infrastructure, including Gaza's main power station, leaving households, and hospitals across the camp without electricity and water, while sanitation systems have collapsed.
Since then, the IOF have killed at least 200 Palestinians, including 56 children, leaving over 800 injured, including 300 children. The Palestinian Red Crescent Society reports at least 210 Palestinians were killed by the IOF in Gaza and the West Bank between 01 July and 07 August 2006. The Israeli human rights group B'Tselem reveals that at least 163 Palestinians killed in July in Gaza alone.
It is also reported that 'Israel is using a new kind of weaponry that burns the bodies, cuts like a knife. It enters the body and rips organs apart', Samir Judah, an emergency room manager in An-Najar Hospital in Rafah refugee camp told the Egyptian weekly, Al-Ahram. "One might think they were burnt, but their colour is dark, they're inflated, and they have a terrible smell. All this, and the hair is not burnt nor do the bodies bleed", said Dr. Bashir Sham, a member of the French Association of Cardiovascular Surgeons.
On 20 May 2004, Yosef Lapid, an Israeli cabinet minister and a holocaust survivor, said the demolition of Palestinian homes in the
Rafah Refugee Camp
reminded him of his grandmother in the holocaust, adding that there "is no forgiveness for people who treat an old woman this way", referring to a grandmother who lost her family home to Israeli bulldozers. It should be note that the most effective tool of Israel's terror is that the crimes of the Nazis are often invoked to justify Israel's crimes against Palestinians.
Today, Israel constitutes the most militarised, extremist and racist society on the planet. Violence against defenceless women and children has become part of the "Jewish State" shared values. As the Israeli poet Ilan Shenfeld summed it up:
*******
"March on Lebanon and also on Gaza with ploughs and salt. Destroy them to the last inhabitant …"Save your people and make bombs, and rain them on villages and towns and houses till they collapse. Kill them, shed their blood, terrify their lives, lest they try again to destroy us, until we hear from tops of exploding mountains, Ridden down by your heels, sounds of supplication and lamentation. And your pits will cover them. Whoever scorns a day of bloodshed, He should be scorned. Save your people, and make war". (Ynet, 30 July 2006).
And this is the Israeli "Left" attitude, those who pray for "peace".
Although Israel's terror is the most brutal and the longest in history, other nations who oppose today's Fascism are enduring similar violence. Iraq and Lebanon have been defenceless targets for years, with horrendous magnitude of destruction and civilian deaths.
Iraq has been systematically destroyed and its people humiliated in the same way many European nations were destroyed by Fascism. After more than a decade of genocidal economic sanctions, Iraq was illegally invaded and occupied. Baghdad and many other Iraqi cities – from Fallujah and Ramadi to al-Qaim and Haditha – were indiscriminately and deliberately bombed and destroyed. Hundreds of thousands of innocent Iraqi civilians have been killed and many more have been wounded. The entire country was taken hostage and the civilian population are subjected to daily grisly massacres, arbitrary arrests and imprisonment, sadistic torture and rape by occupying U.S. forces and mercenaries. Large U.S. corporations are looting Iraq's wealth and national resources while the
living conditions
for Iraqis continue to deteriorate.
[Are the post war events a natural outgrowth of the resistence and bids for power, or is it a rfepeat of the Salvadorian Option, as practised so many times before by the US?]
Like Iraq, Lebanon has been systematically and indiscriminately destroyed. Over many years, Israel routinely bombed and invaded Lebanon. Israeli Mossad agents and assassins carried out countless acts of terrorism on Lebanon territory assassinating, and kidnapping Lebanese and Palestinian citizens. In 1978-1982 Israeli forces invaded Lebanon and occupied the country for two decades. At least 20,000 Lebanese civilians have been murdered by Israeli forces. Another 2000 Palestinian women and children refugees in Sabre and Chatila refugee camps were massacred by the criminal Ariel Sharon and his proxy thugs. Lebanon was completely destroyed before the Israelis were defeated and forced to leave by the heroic Lebanese Resistance.
Today Israel is avenging its defeat and using its war crimes in Lebanon to coerce the Lebanese people against their popular Resistance, blackmail other nations and use the crimes as a rehearsal for an Israeli-U.S. wider war in the region. The Israeli-U.S. violence failed to achieve its goal as much as the Nazis failed to coerce the Russian people during Fascism attacks on Russia.
Since the Israeli premeditated aggression against Lebanon and the indiscriminate and systematic destruction of the country, more than 1200 innocent civilians have been killed in a cowardly and Nazi-like fashion, a third of the dead were children under the age of 12-years old. At least 5000 civilians have been wounded, and more than a million Lebanese are homeless, displaced from their towns and villages. It is estimated that some 100,000 Lebanese – out of an original population of 913,000 – are still in southern villages – no one knows their fate –, cut off from the rest of the country and subjected to daily Israeli artillery shelling and aerial bombing. Israel is intended to ethnically cleanse the population from the area south of the Litani River and annexed their land, crimes used during the Nazis' occupation of Europe.
With the blessing of the UN, the U.S. and its allies, Israel is not only allowed to drop tonnage of banned cluster bombs and white phosphorous bombs – conducted with U.S. weapons and paid for by billions of American taxpayers – on densely populated areas killing hundreds of innocent civilians and destroying their homes but also Israel is allowed to get away with horrendous war crimes.
[I plan to post soon on the illegal and inhuman weapons used in the Middle East by the US and Israel]
Furthermore, Israel is using the already biased and anti-Muslim corporate media to distort reality and plays victim.
As in Iraq, Lebanon entire civilian infrastructure is deliberately destroyed; a flagrant violation of international law and war crimes by any standard. Knowing that the U.S. is on his side, Israeli Prime Minister Ehud Olmert said openly that; "We are destroying Lebanon and forcing the civilian population to turn against Hizbullah". With deafening silence to mass atrocities, the persistence of Fascism seemed to have been accepted by most Western citizens.
Rejected the world's call for an immediate cease-fire to halt the massacres of innocent Lebanese civilians by Israeli forces, the U.S. showed its full complicity in the violence. Just few days into the mass atrocity, U.S. Secretary of State Condoleezza Rice, said: "They've [Lebanese] been through a very difficult war". The aim was to give Israel more time to destroy Lebanon and kill more innocent civilians. Note also the moral bankruptcy and the "difficult war" that Israel and the U.S. have orchestrated and perpetuated for more than three decades against virtually a defenceless nation. Since the 1970s, Israel-U.S. policy has been to coerce Lebanon and the civilian population to surrender to Israeli-U.S. dictate.
It is important not to forget that in April 2002 during the Israeli aggression on the West Bank city of Jenin, the U.S. refused to call for an immediate cease-fire and encouraged the massacre of innocent Palestinian civilians. Israeli forces indiscriminately attacked the Jenin Refugee Camp, with bulldozers levelling Palestinian homes and U.S.-supplied Apache and Cobra helicopter gunships and tanks bombed the 15,000 besieged civilian population (For more see the
Jenin Inquiry Report
).
The U.S.-based Human Right Watch (HRW) reported that Israeli occupation forces on the ground used Palestinians as human shields to conduct their terror. The entire community was destroyed in a Nazi-like fashion. At the time the UN produced a seriously flawed report to shield Israel from war crimes responsibility.
Sadly, with deafening silence of Western citizens, the persistence of Fascism continues today. The differences today are in the desire of today's Fascism to conduct war of aggression against defenceless populations, and in the deliberate destruction of the social and economic structure to sustain and to provide the majority of the civilian population with their means of livelihood.
The systematic and random mass bombing of civilian population in the cities of Iraq, Lebanon Palestine and Afghanistan, indiscriminately killing and wounding innocent civilians and destroying homes, cultural heritages, health care services and educational system, including libraries, universities, schools and archives will not coerce the people to surrender.
Finally, the premeditated and illegal wars of aggression against Muslim nations are what the Nuremberg Tribunal called 'Supreme International Crime'. The Tribunal tried Nazi leaders and most of them were found guilty and were hanged for their crimes. Thus, in a "civilised" world and under the same Nuremberg Charter, Western and Israeli leaders, and their accomplices have committed war crimes.
From time immemorial, wars of aggression and occupation nurture legitimate resistance. Therefore, the only way to defeat Fascism, old and new, is persistence mass resistance to its repression, wars of aggression, and occupation.
Ghali Hassan lives in Perth, Western Australia
*************************************************************************
Why Are We In Iraq??
Sunday, September 03, 2006
AlterNet: The Clash of Civilizations Doesn't Exist... Yet
Clash of Civilizations? Not Yet, but the Neocons are working on it.
-------------------------------------
The Clash of Civilizations Doesn't Exist... Yet
http://www.alternet.org/story/41032
The neocons who are pushing a Clash of Civilizations are mirror-images of the terrorists that inspire their hyperbolic fear -- they are just as irrational and just as great a threat to our security.
-------------------------------------
Oil slick takes its toll on Lebanese coast
Article on NewScientist.com
Oil slick takes its toll on Lebanese coast
http://www.newscientist.com/article.ns?id=dn9899
Thanks to Israeli bombing designed to destroy Lebanon, no matter the long term coast. A pristine coast horribly contaminated.